This year the ESME summer concert was once again at the Carl-Orff-Saal, Gasteig.
The Orchestra began the concert with Schubert's Unfinished Symphony. The first half also included Grieg's Piano Concerto with soloist Genevieve Holmes.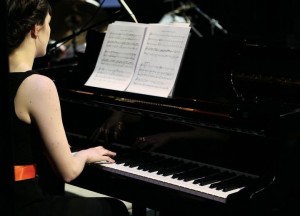 The Big Band opened the second half with a set inspired by The Blues Brothers and they were definitely dressed for the occasion.
The Singers then performed a varied set of mostly unaccompanied songs, including a rousing version of The Battle of Jericho. Dark Night of the Soul provided the opportunity for singers, string quartet and piano to show how well they blend.
The Orchestra and Singers also performed some pieces together and brought the concert to a close with a medley of popular songs from years gone by, including Imagine and The Locomotion.
We would like to thank everyone for coming along and supporting us. We really enjoyed the concert and hope you did too.
At the party after the concert we had a chance to say thank you to Heather Gentemann and Daniel Stratievsky.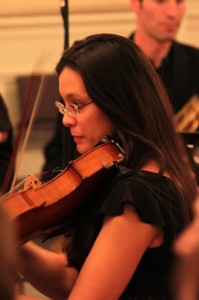 Heather first joined the Orchestra in 2009 and was instrumental in setting up ESME e.V. in 2011. Since then she has worked tirelessly to help make ESME what it is today. Heather also played the viola in the Orchestra and sang soprano in the Singers. We would like to wish her the very best as she and her husband move to the north of Germany to start their new jobs.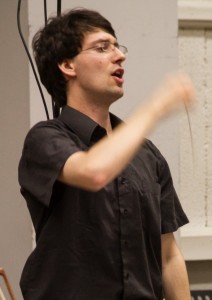 Daniel Stratievsky started conducting the ESME Orchestra in September 2012 and since then there has been fun as well as hard work. We have learned a lot and are pleased to have introduced Daniel to the world of rock 'n' roll. We would like to wish him the very best of luck as he takes up his new position with the Theater für Niedersachesen in Hildesheim.
We will miss them both and hope to see them back in Munich very soon.