Rehearsals: Monday evenings, 7pm, Einstein Kulturzentrum (Halle 1); Einsteinstr. 42 (near Jazzclub Unterfahrt). We will publish the Autumn/ Winter season plans as we hear what possibilities there are.
Soloist: Genevieve Holmes  Conductor: Daniel Stratievsky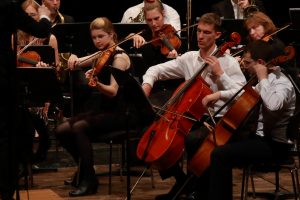 The 
TT Orchestra
 was formed in the summer of 2008 by members of the ex-pat community in Munich. It was originally named after the entry in Toytown (a.k.a. TT) that brought the first 4 musicians together. They debuted in July 2009 with 22 instrumentalists. Since then, the orchestra has more than doubled in size, and performs two concerts each year at venues such as the Carl-Orff-Saal at the Gasteig and the Münchner Künstlerhaus. Our instrumentalists also have the opportunity to shine in smaller ensembles and as soloists at our annual Spring Showcase.
Members come from a wide array of places and professional backgrounds. Many come from English-speaking countries, but over 20 countries are represented in all.
Orchestra Coductor:
Orchestra Manager:
Léa Vernisse
Join the Orchestra
If you'd like to join the ESME orchestra, please fill out the Introduction Form.
Presently we are specifically looking to increase our lower string section, with spaces available for violas, 'cellos and double bass, although violins would also be welcome. We also have space for brass instruments (specifically trombones, trumpets) and for a further bassoon. The flute and clarinet sections are full.
We will reply to your application as soon as possible.