Alonzo Barrett, born in Los Angeles and raised in Houston, is pursuing a bachelor's degree in orchestral conducting at the Munich University of Music and Performing Arts since 2021.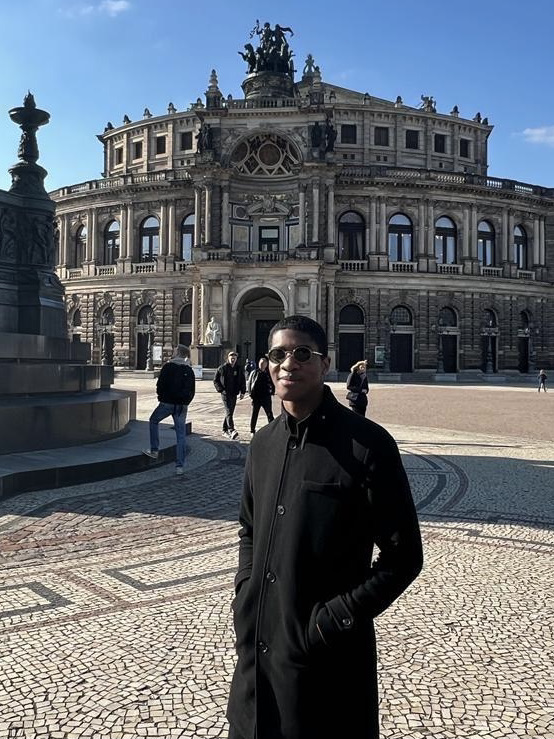 He began his musical training on the alto saxophone. In 2018, he won second prize in the state of Texas at the Texas Music Educators Association competition. There, Alonzo Barrett was privileged to play works by Leonard Bernstein in the U.S. Marine Corps under the direction of Col. Jason K. Fettig. From 2019 to 2021, he studied "classical" saxophone at the Jacobs School of Music in Indiana with Prof. Dr. Otis Murphy. During this time, Alonzo Barrett performed concertos for saxophone and string quartet together with the Kenari Quartet in his own arrangements.
At the same time he gained his first conducting experience: With students of the Jacobs School of Music, he performed works by Wagner and Tchaikovsky. In 2020, at the age of 18, Alonzo stood at the podium of the Fort Wayne Philharmonic. While a student, he has had the opportunity to work with numerous orchestras, including the Philharmonie Südwestfalen, Augsburg Philharmonic, Munich Symphony, Munich Chamber Orchestra, Staatstheater am Gärtnerplatz Orchestra, and Staatskapelle Halle.
Alonzo Barrett is very happy to be able to make music here in Germany, to get to know German culture and to share music with people.
Former Orchestra Conductors
Benedikt Holnaicher
Daniel Stratievsky
Mark Davey