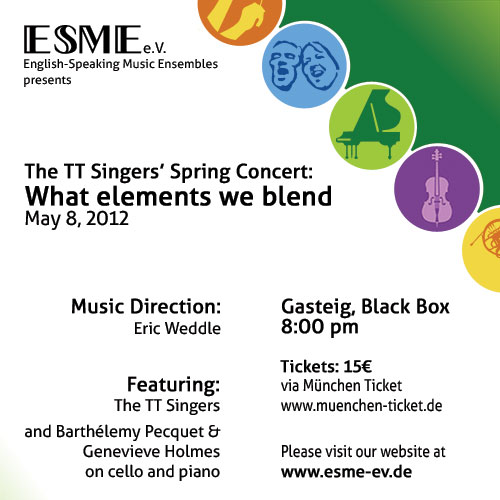 Dear Family, Friends and Fans,
Please join the TT Singers, under the direction of Eric Weddle, on Tuesday, May 8, 2012 for an evening of choral music — from madrigals to African-American spirituals to doo-wop a cappella & everything in between.
We invite everyone to hear "What elements we blend".
The concert will be held in the Gasteig's Black Box and will feature works from Grieg, The King's Singers, Dawson, Morley and Brahms. You will also hear a performance by Barthélemy Pecquet and Genevieve Holmes on cello and piano.
Tickets are currently on sale for 15€ and can be reserved online via München Ticket or purchased directly at one the four München Ticket centers located at either the München Hauptbahnhof, Gasteig, Marienplatz or Olympia-Eissportzentrum. We do expect a sold out concert so please purchase your tickets early.
If you have any questions, please contact us via info@esme-ev.de