Bring on the Blue Skies – It's time for the ESME Summer Concert!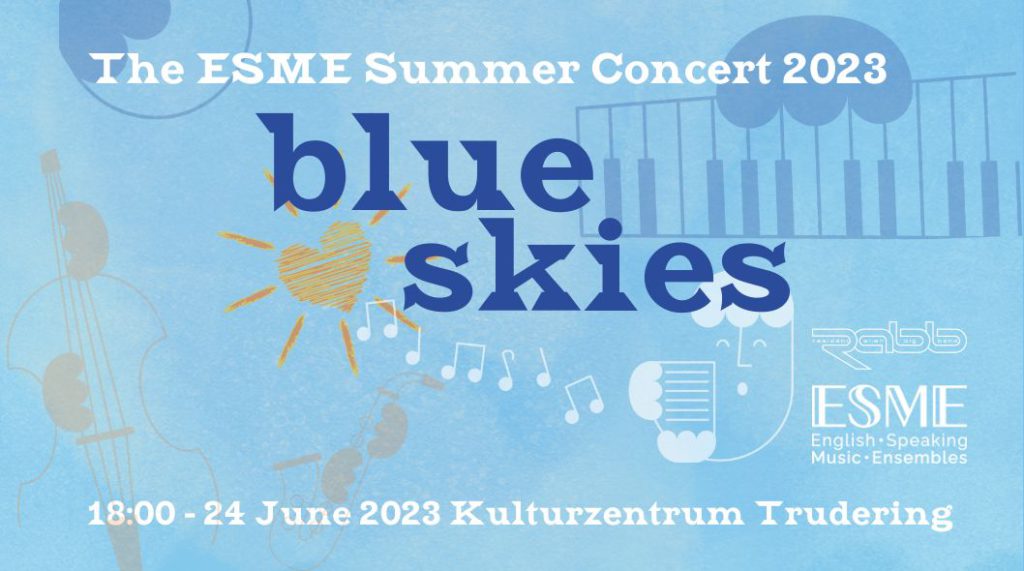 Blue skies smilin' at me
Nothin' but blue skies do I see…" ♫♪
Experience a delightful summer evening of music at our upcoming "Blue Skies" concert!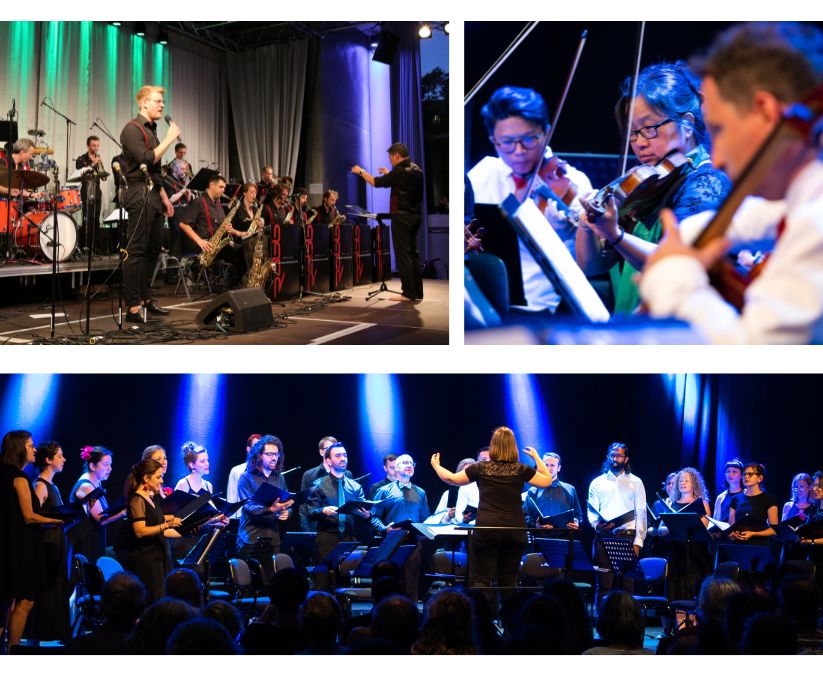 Hosted by ESME e.V. (English-Speaking Music Ensembles), the concert will feature the ESME Singers, the ESME Orchestra, and the Resident Alien Big Band (RABB).
Don't miss out on this wonderful opportunity to soak up warm summer vibes and the joy of fantastic live music! There will be food and drink and also the opportunity to dance a bit in a relaxed atmosphere if you feel the desire. We look forward to seeing you there!
ESME's Resident Alien Big Band Charity Open Rehearsal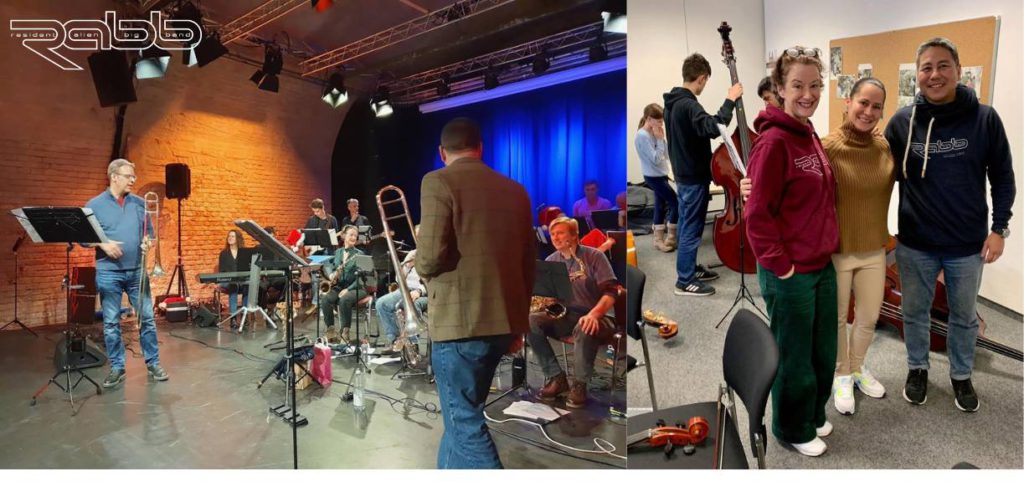 In December, our Resident Alien Big Band played an open rehearsal at the Einstein Kulturzentrum, where we invited family and friends to a private event to listen to us rehearse in a very relaxed atmosphere. There was no charge but we did ask people to make a donation to a good cause. In 2022, the band chose a charity very close to our hearts – C.O.N. Sonanza e.V. -a cultural and social project for children and teenagers. The non-profit association was founded in Munich in 2017 and follows the approach of the internationally renowned Venezuelan music education program, El Sistema. They offer excellent musical education for children and teenagers with and without music skills, everything free of charge.
The RABB conductor, Davy Kazan, entertained with his impeccable Italian (or so he was told), and our singers – the 3 C's Caroline, Carina and Christian, brought the roof down (well, the vaulted ceiling) with their sassy vocals. The audience even got to hear how we attempt to tune our trumpets and how we put a tune together which we have never seen before. Thank-you to everyone who came along, we had a blast!
ESME Singers Harmonize with the Rheinland-Pfalz International Choir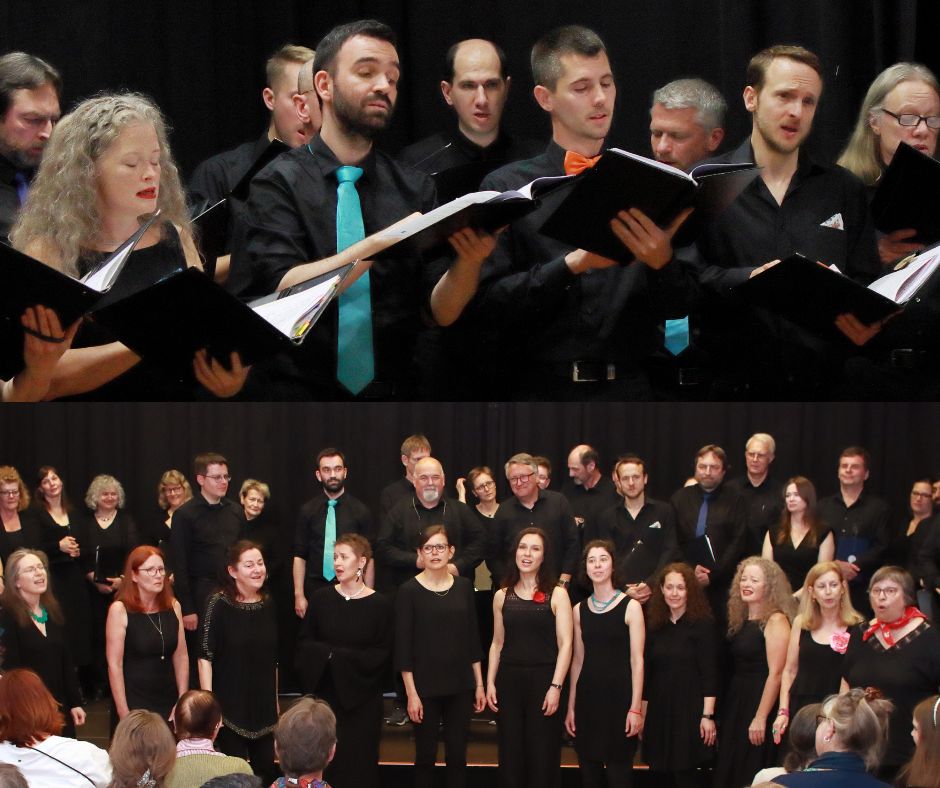 On the balmy evening of the 22nd of April, ESME Singers were thrilled to play host to the Rheinland-Pfalz International Choir (RPIC) in a lively and eclectic joint concert at the Hasenbergl Stadtteilkultur in Munich. From 2011 to 2018, the ESME Singers were conducted by the beloved Eric Weddle, and we were deeply saddened when he had to move up north for a new job. But, we maintained contact with him throughout the years, and, thanks to Singers' member Annie Janssen, long-awaited plans were finally hatched to throw a joint concert between Eric's former and current choir. Unfortunately, due to a family emergency, Eric had to fly back to the U.S., but the RPIC members persevered and made their way down to Munich – in spite of the added challenge of a public transportation strike the day before the concert! ESME Singers' charismatic and gifted conductor, Linda Oppermann, took the reins and led all three joint pieces in Eric's absence. The sound of the two choirs produced a powerful, breathtaking sound together. The concert was a roaring success – standing room only! – with a wide range of genres performed by each of the two choirs and the added delight of joint women's and men's ensemble performances.
A lively after-party took place at Munich's Park Cafe (and yes, we all sang "Tshotsholoza" together, the traditional ESME singers' party song), followed the next day by a festive Sunday jazz brunch (a classic Munich tradition). Friendships were made and we are sure this won't be the last time we sing together – next time, in the great company of Eric Weddle!
Another Memorable ESME Spring Weekend Away!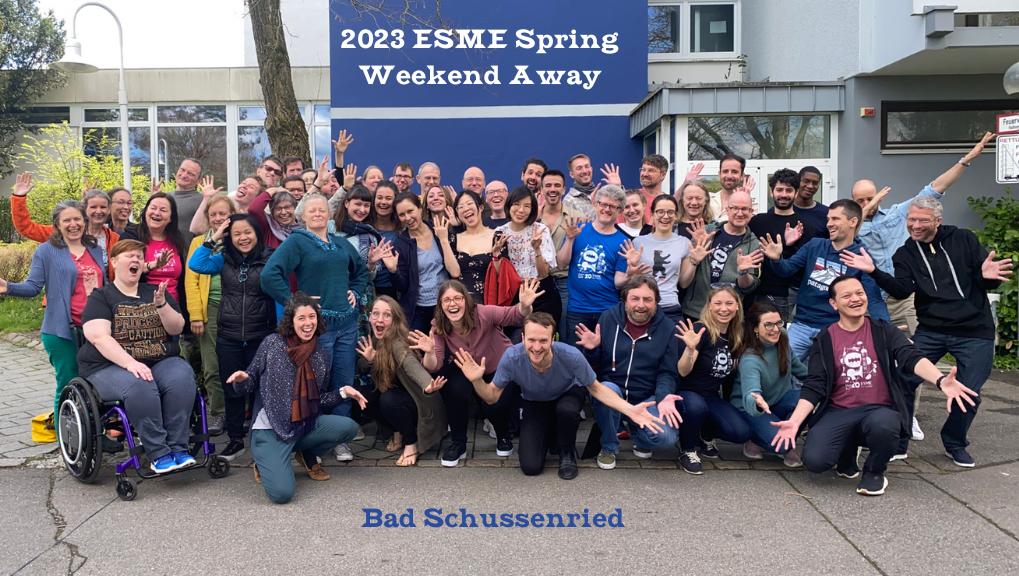 The annual ESME Spring Weekend Away in Bad Schussenried was a blast! From Friday evening through Sunday afternoon, 51 members of the ESME Singers and Orchestra took a break from their busy schedules and eagerly immersed themselves in the eclectic repertoire of our recent Spring Showcase and our upcoming "Blue Skies" ESME Summer Concert. Led by our talented conductors, Linda and Alonzo Barrett, our days were filled with inspiring music rehearsals, and our nights with the fun of impromptu jam sessions, singing, socializing and games. We can't wait to share our passion for this music with you at our upcoming concert. Prends garde à toi!
Sold-Out Success for the 2023 ESME Spring Showcase!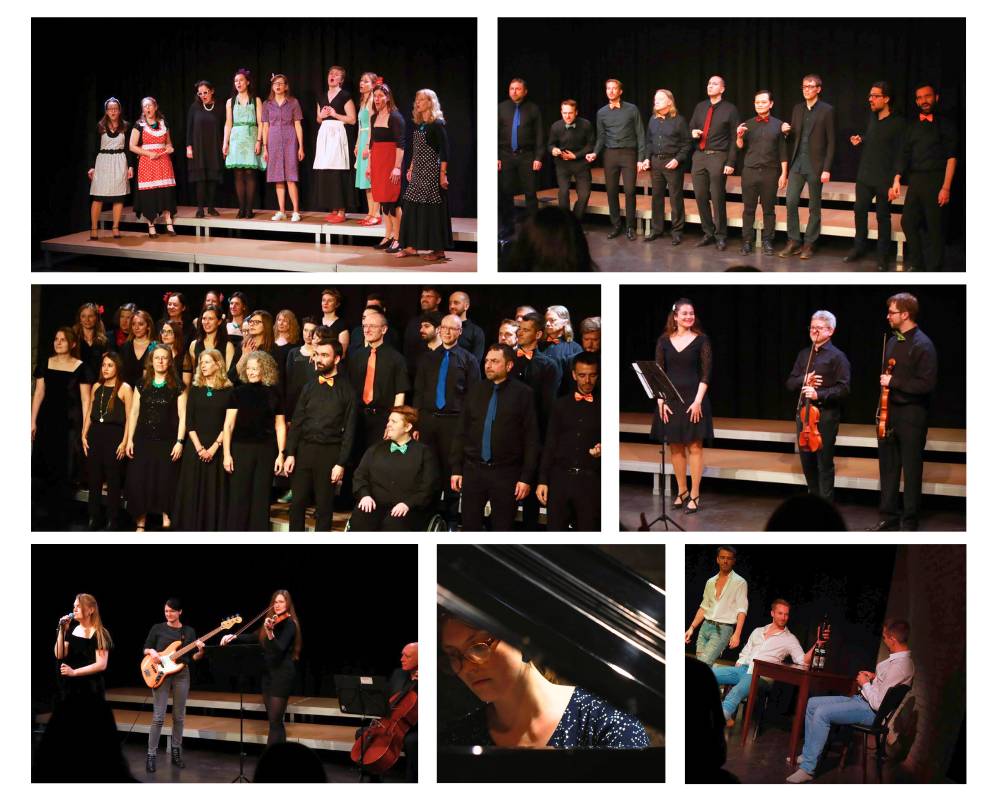 The audience was promised an irresistible variety of sound – and boy did we get one!
The ESME Spring Showcase at Einstein-Kultur was a sold-out success. It featured a variety of performances by the ESME Singers, including the exuberant long-time favorite, "Tshotsholoza," as well as the creativity and musical genius of many unique ensemble groups and a moving solo piano performance of Chopin's "Nocturne in E flat," by our Singers' Conductor, Linda. The Beauties and the Bass performed a delicate rendition of "Wellerman" and "Country Roads", while barefoot on the piano!
We heard melodious voices and violins in Billie Eilish's "Lovely," as well as a heartfelt version of "Au Champs Élysées" and we were mesmerized by the flowing instrumental performances in classical pieces from Mozart to Shostakovich. The ESME Singers closed the concert with "Somebody to Love", featuring a passionate solo performance that would have made Freddie Mercury proud and left us with goosebumps.
In typical ESME style, the music and good times continued at the lively after-party over tex-mex and margaritas. Big thanks to all those who participated and those who came out to support the event. What a wonderful way to celebrate Mother's Day and spring!
Upcoming ESME and RABB Concert Dates not to miss!

Mark Your Calendar:
–Saturday 24 June, 2023, 6pm Kulturzentrum Trudering – "Blue Skies" ESME Summer Concert
–Wednesday 28 June 2023, 8pm Schellingstrasse 3 – RABB: Lost Weekend, Munich
Join ESME's very own Resident Alien Big Band at one of our favourite cosy locations in the heart of Schwabing. If you want to see how we manage to fit 24 musicians onto Lost Weekend's tiny stage – and on top of this fancy a fun evening dancing along to some jazz, funk and swing tunes, this is the place for you.
–Sunday 9 July 2023, 6pm Kulturhaus Milbertshofen – RABB: Tanzserenade
The Munich Kulturreferat debuted the outdoor Tanzserenade series (dance-serenade) during Covid, when partying indoors was simply not possible. Last year, our Resident Alien's made their debut at the Tanzserenade series playing for a large audience, many of them dancing their standards, at the Schneckenplatz near the Munich Transport Museum. This year we are changing location to play (weather permitting) outside at the Kulturhaus Milbertshofen (alternative indoor location available so no chance of cancellation!). So pack your dancing shoes, check out those standards you learnt at the obligatory German dance course, and join us in Milbertshofen. And don't worry – if you don't dance, you are welcome to just eat, drink and enjoy the evening.
–Sunday 6 August 2023, 1pm Rindermarkt, Munich – RABB: Munich Sessions Summer Fest
The Munich Sessions Summer Fest, a regular in the Big Band's calendar, is back at Rindermarkt and the Alien's look forward to playing for you there. Check out the other acts too – there is plenty to see and much fun to be had!
–Saturday 9 December 2023, München Künstlerhaus – ESME Winter Concert
Even if we don't want to think of Winter yet – join all three ESME ensembles together for an evening of festive fun in the annual ESME winter concert at the beautiful Munich Künstlerhaus in the heart of the city.
Entity Theatre puts on BOMBSHELLS and Othello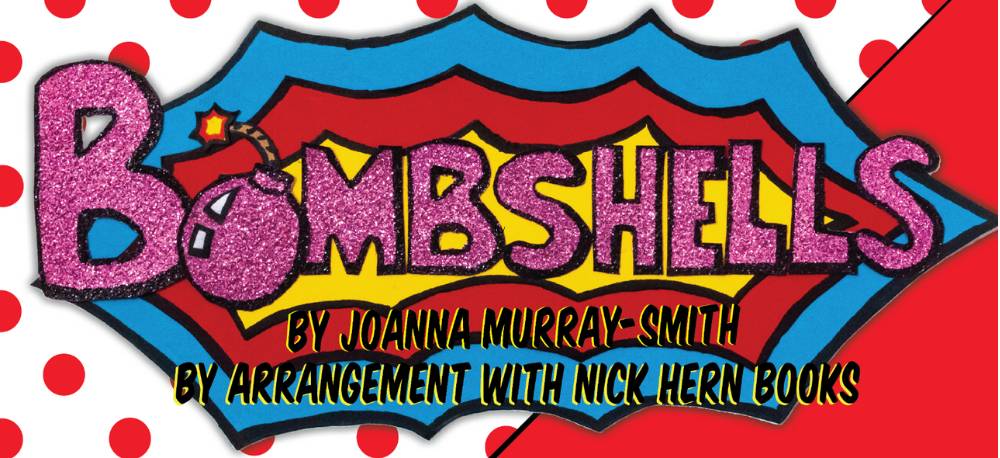 The English-speaking nonprofit community-theatre company Entity will perform two shows this summer. Explore the humorous highs and lows of six interlinked characters' everyday struggles with love, loss, confidence and self-discovery in BOMBSHELLS! Directed by Kate Scholes and performed at Theater…und so fort on 8–11 June 2023 and in the week from December 4th to December 10th. Reserve your ticket here!
Hard on its heels follows Othello, which continues Entity's tradition of summer Shakespeare productions at Theatron Westpark. Directed by Conny Loder & John Yates, performance dates: 7–9, 14–16, 21–23 July 2023, 19:00, free admission, more info here!
Check out our Merch!
Did you know we've got unique merchandise in our ESME Shop to help you show off your love and support for our organization? ESME Shirts, sweatshirts, bags, mugs, stickers – including the special edition 10-year anniversary designs (by our own, Vanessa Kiefert). AND coming soon, new RABB merch for your enjoyment! Check it out (shop linked above, in website menu and at the foot of this page!)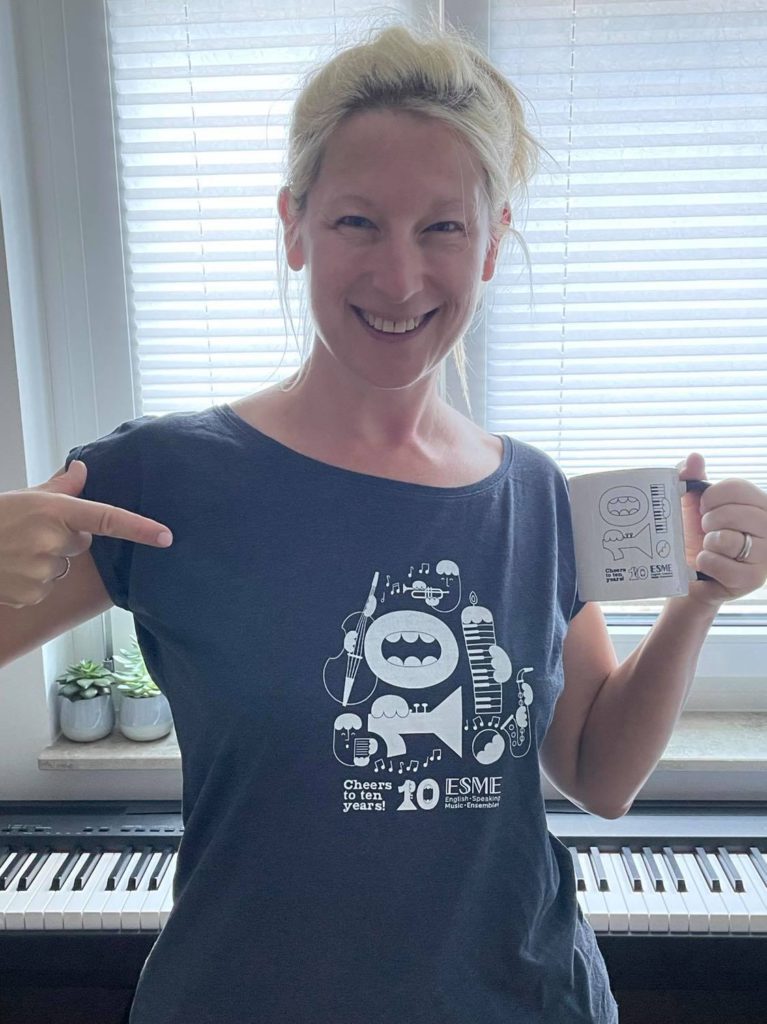 Our Newsletter
This our newsletter — subscribe to have a version with a ticket link for each concert sent to you as soon as we have it! More regular news, posts and updates go out on Facebook, Twitter and Instagram. All our social media channels are linked at the bottom of each page.
https://esme-ev.de/newsletter_subscribe
Thank you to our photographers for capturing our moments: Aurelien Godenir and Didier Caneilles. Thank you to our contributing writers: Jana Huß, Emily Petrou, Elaine Cole and Betsy Riley Harclerode for making this newsletter possible.