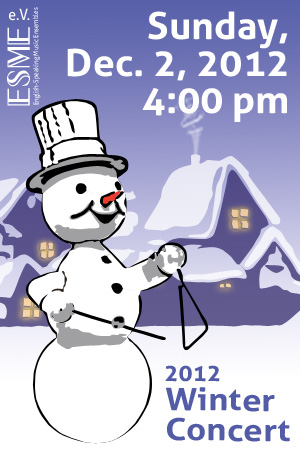 The local Munich amateur music organization, English-Speaking Music Ensembles (ESME) e.V. is pleased to host its 3rd concert of the year, titled: "A Winter Warm-up: Carols and Classics" on Sunday, December 2nd at 4:00 p.m. in the Carl-Orff-Saal at the Gasteig cultural center. As in the past, the show promises a wide range of music, from classical to jazz to favorites of the season.
The family-friendly performance features all three of ESME's established ensembles: Orchestra, Singers and Big Band under the direction of Daniel Stratievsky, Kristin Fehlauer and Mark Davey. The orchestra will "warm up" the stage with movements from Bizet and Mahler, to be later joined by the choir for Mozart's Coronation Mass. The singers' lush harmonies evoke fireside coziness, contrasting with the big band's lively holiday rhythms. It may be cold outside, but the closing combined performance of Christmas carols should warm everyone's heart.
Advance ticket purchases are highly recommended. Tickets (€8-18)* can be purchased online at München Ticket: http://www.muenchenticket.de or at one of the many locations throughout Munich (Hauptbahnhof, Marienplatz, Olympiapark or Gasteig).
Where: Gasteig, Carl-Orff-Saal
Rosenheimer Str. 5, Munich, Germany
Date: Dec 2, 2012
Concert Start: 4:00 p.m.
Cost: 8* / 12* / 18 € per person (* 50% discount available for children and students in these price categories. Not available for online reservation.)
Tickets can be reserved online via München Ticket
Principal Conductors — Daniel Stratievsky & Kristin Fehlauer
Guest Conductor — Tar Viturawong
Soloist — Olivia Corey
Music Lineup
L'Arlesienne, Suite Nr.1. Prélude — G. Bizet
Symphony No. 1 in D Major, "Titan": Mov. 3 — G. Mahler
Coronation Mass in C major, Kyrie, Sanctus, Benedictus & Agnus Dei — W.A. Mozart
Jingle Bells — J. Piermont
Frosty the Snowman — S. Nelson & J. Rollins
Ave Maria (Angelus Domini) — F. Biebl
Carol of the Bells — M. Leontovich
Feliz Navidad — J. Feliciano
A Big Band Christmas — traditional songs
Caritas Patiens Est — Tar Viturawong
Santa Baby — J. Javits, P. Springer & T. Springer
I'll Be Home for Christmas — W. Kent
A Carol Fantasia — (a medley of traditional carols for singers and orchestra)
PR Media for download: