Thank-you so much to everybody who attended our first ever Munich Summer Ball last Saturday! We had great fun organising this for you and would love to see you at the next one.
Please take a look at the photo gallery! Special thanks to our photographer Markus Koller for taking these.
We are pleased to announce that the Charity Raffle raised a total of €702 for Musik Schafft Heimat. Thanks to everybody who bought a raffle ticket and we hope the lucky ones amongst you enjoy your prizes
The First Ever Munich Summer Ball by ESME e.V.: Summer Swing 2016!
Come and celebrate Summer to smooth tunes and funky beats at the first ever Munich Summer Ball! Join the fun on Saturday 9th July at the Wirtshaus Echardinger Einkehr in Berg-am-Laim. Dress up to the nines, dust off that tux, shake out the suit, take the ball-gown for a whirl or simply put on your best. Expect a fun evening of food, drink and dancing to live music played by ESME's own Resident Alien Big Band and string quartet.
From quick step to swing, jazz to jive; from old to new; from Dean Martin to Bruno Mars. This will be THE Munich Summer event to dance the night away with your friends, so make sure you don't miss it.
So put on your String of Pearls, drink your Coconut Champagne and get In the Mood for a Hot Hot Hot evening – and don't forget to Save the Last Dance for Me.
Photographs courtesy of Celticon Photography
[wptab name='Programme']
19.00h – 19.30h Welcome drink
19.45h – 3 course meal accompanied by the ESME string quartet
Charity fundraiser
21.30h – 00.00h Live music with ESME's Resident Alien Big Band – dance your hearts out!
00.00h – 02:00h DJ Claudie Sutra [/wptab]
[wptab name='Big Band']
21.30h – 00.00h Live music with ESME's Resident Alien Big Band – Dance your hearts out! Photographs courtesy of Celticon Photography
[/wptab]
[wptab name='DJ']
After our Big Band program DJ Claudie Sutra will keep you busy on the dance floor. 00.00h – 02:00h DJ Claudie Sutra
We are excited to have Claudie in Munich and thank her very much for DJ-ing at the Munich Summer Ball!!
[/wptab]
[wptab name='String Quartet']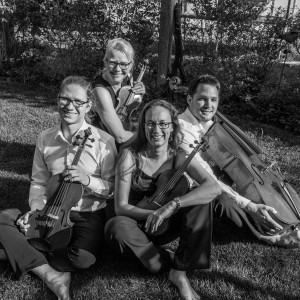 Many thanks to our string players who have come together this evening especially to play for you:
Violin: Sarah Ready, Sybille Fischer
Viola: Benedikt Holnaicher
Violincello: Barthélemy Pecquet
[/wptab][wptab name='Charity tombola']
With prizes kindly donated by:
Charlène Granier
Toby Müller
Sarah Ready
Richard Sargent
Barbara Wagner
Proceeds from the raffle will be donated to the charity "Musik schafft Heimat". Initiated by the Bayerische Philharmonie, this program has been set up to help refugees who are new to the City of Munich to integrate and settle into their new home by making music together.
In a very different way, ESME has also given many of its members – who come from places as far away as Australia and Argentina, America and Russia – the chance to make new friends and feel less foreign in a strange city. The power of music to cross borders and break down barriers is overwhelming!
For more information, please visit the website of ´Musik Schafft Heimat´
[/wptab][end_wptabset]
[wptab name='Tickets']
Tickets cost €55.00 per person
The ticket price includes a welcome drink, 3-course meal, full live music programme until midnight and a DJ to warm you up then cool you down.
Spaces can be reserved in one go for up to 8 guests per table.
[/wptab]
[wptab name='Reservation']
Online sales are now closed for the Munich Summer Ball. If you still need a ticket, please send us an email before Tuesday evening, the 5th of July 2016, 18h.
[/wptab]
[wptab name='Address']
Echardinger Einkehr
Bad-Kreuther-Straße 8
81671 München.
Please note that parking is limited at the venue so the best options are to take public transport or to organise a taxi – don't forget, you may enjoy the evening a lot more without having to worry about the drive home![/wptab]
[wptab name='Public transport']
U-Bahn: U5: Innsbrucker Ring (approx. 10 min walk to venue) or U5 Michaelibad (approx. 12 min walk to venue).
Further details/ timetables etc. for public transport can be found here: Fahrauskunft MVV München
[/wptab][end_wptabset]