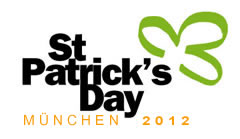 It's not easy being green…except on St. Paddy's Day!
In Munich we can celebrate twice: first opportunity is this weekend at the parade!
Come help us spread the word about ESME e.V.
When: Sunday March 11, 2012
Where: Münchner Freiheit
11.45 pm Meeting time (exact location to be announced shortly)
12.00 noon Parade Start
ca. 1.00 pm Arrival at Odeonsplatz
After Parade Party with stage programme at Odeonsplatz
Follow up here on Facebook. We hope to see you there!